If you are in a bind and need help selling a property, work with 550Fast. Our company has been working with individuals for years to buy their homes quick and easy. Going through a realtor can bring a headache to someone who wants to sell their house fast. By working with us at 550Fast we will make you a cash offer on the spot so you can get your house off your hands in any condition at all. Our competitive offer and efficiency to fix your problem is what keeps our business thriving.
Some people do not want the houses they have. Whether they inherited them, are going through a tough situation or just need cash, 550Fast is here to be the solution to your problem. Situations are tough, no matter how you got your property or what you want to do with it, we are here to help take the headache of selling a house off of you.
Why you should sell your house to 550Fast
Fast and efficient process
Full and fair 100% cash offer
No realtor expenses or closing costs
Leave it as is in ANY condition

"I have nothing but GREAT things to say about this company. The quality of work and character of the owners is 2nd to none! They have done countless transformations on houses bringing life back into them as they create homes and bring value to neighborhoods. They recently bought a house I lived in previously and transformed it completely. I was very impressed. Very easy to work with, honest, creative and genuine! You cant go wrong with 550Fast!!!!!!"

, Nov,25 2018
Customer review on Google My Business
Why People Want to Sell Their House Fast! 
Foundation Issues
Inherited/Probate
Water Damage
Too Many Repairs
Structural Problems
Termites
Out Dated
Divorce
Foreclosure
Tired of being a Landlord
Need Cash
Need a Fast Sale
Simply Don't Want the Property
Want a No Hassle, No Realtor Sale
Foreclosure
Short Sale
Where Can I Sell My House Fast in Colorado Springs?
It's our mission as fast home buyers at 550-FAST to achieve win-win transactions with every homeowner looking to sell their house fast for cash. It is our goal to make you a fair cash offer for your property so that you can move on in your life without having to worry about the details and common concerns of selling a property.
"Our fair offer allows you to sell your house fast in Colorado Springs. The combination of speed and the purchasing of your property in any condition allows you to close on the date of your choice". We buy houses fast! That is not a mistake. However you want to leave your house, in any condition we will buy it from you as quick as possible. If you are in Colorado Springs, quit asking yourself "who can I sell my house fast to?" and call us today! We can help you with whatever you need.
What Exactly is a FAIR OFFER?
In order to understand what a fair offer is, you must understand the common expenses of a real estate transaction. There is a difference between what price you are offered and what you "take home." If you are selling your home and a company of fast home buyers like ourselves offers to buy your house fast for $200,000.00, you can be sure that what you clear is considerably less. When we make you an offer, it is a net offer. This way, when you sell your house fast in Colorado Springs, you know exactly what you will be taking home from the closing table.
You Pay NO Realtor Expenses
When you sell a property with a real estate agent, there is a 6% of the sales price that is paid to the buying and selling side agents. So if you were to sell a home for 200,000 that is a 12,000 commission that is paid at the time of closing. Our offers do not include real estate agents so you do not have to worry about real estate fees.
You Pay NO Closing Costs
You can stop asking yourself "who can help me sell my house fast?" because we are here to help! 550Fast makes it as simple as possible. When we buy houses as-is in any condition in, our clients do not have to pay closing costs in order for us to enter into an agreement. It is now customary for sellers to pay the closing cost of the buyer as well sellers title insurance and other seller closing costs associated with a conventional real estate transaction. This can be anywhere from 3-4%. So in the example of the 200,000 purchase price this translates to another $6,000.00 to $8,000.00. When you work with us in Colorado Springs to sell your house fast for cash, our net offers include paying for all of the closing costs.
You Make NO Repairs
Once you enter into a real estate contract, the next step is to schedule a home inspection. In this home inspection, the inspector goes through your house with a fine tooth comb. It is the goal of the inspector to point out any items ,whether major or minor, to the potential buyer. The buyer will then ask the seller to fix these items or walk away altogether. For someone looking to sell their house fast and easy, this is not ideal. Believe it or not, it is not uncommon for the checklist of the home inspection to cost anywhere from $2,000 – $10,000 to fix depending upon what they find. When our fast home buyers purchase you house in any condition, our offers mean the home owners do not have to fix a thing.
You Have NO Long Closing Time Frames
One aspect of selling your property is the closing date. Conventional real estate transactions can take anywhere from 30-60 days to get to the closing table. The reason the long time frame is needed is because your potential buyer is getting financing. During this time, you are still responsible for mortgage payments, taxes and insurance. It is also a possibility that the financing could fall through and leave you back where you started. Our offers are cash, so when you are asking yourself "how can I sell my house fast in Colorado Springs?" choose 550Fast and you can close in as little as 7 days if necessary.
*ALL our transactions are completed through A title company. This helps to ensure that components of the transaction are legal and problem-free. Through research, insurance and careful coordination, they make sure that the title to a piece of property is transferred legally and correctly from you to us to protect all parties of the transaction.
Read Client Testimonials | Read FAQs | Privacy Policy.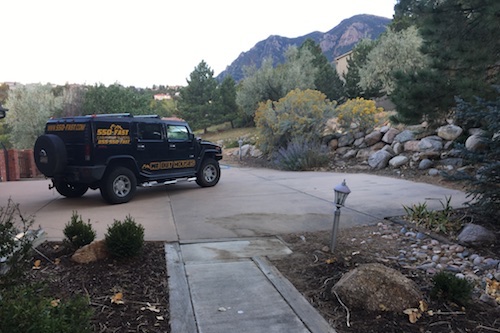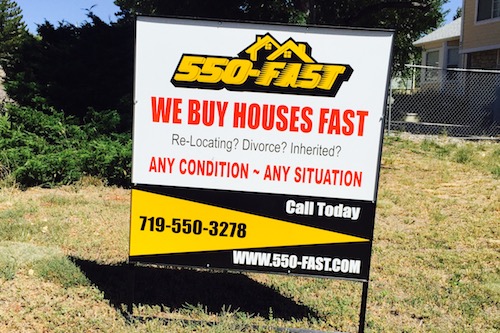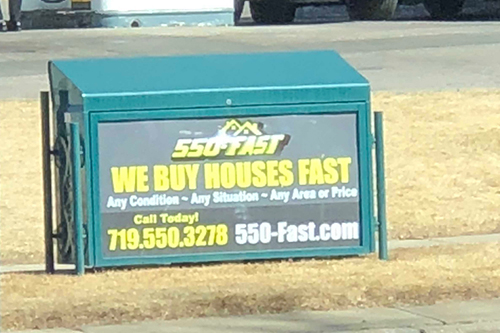 To see behind the scenes please follow us on Instagram.